QC course on Code, standard and specifications.The below blog will answer the following questions:
What is codes & Standards?
what is difference between code & Standard?
What is meant by specifications?
Standards:
Standards are set if technical definitions and guidelines.
Standards give "How to" instructions for designers, manufacturers and inspectors.
Standards give Quality requirements and establish safety criteria for the products.
Example : ISO, ASTM, API, ISO, MS, etc
Why standards are required?
1)Standards are documents that establish engineering requirement and Technical requirements – for products, methods, practices or operations.
2) It gives confidence to the purchaser about the manufacturers product.
3) It maintains same level of quality for a product all over the world where it is followed.
CODES :
CODE is the standard which has been adapted by government body or authority.
When a standard is adapted by a client and legally mentioned in the business contract.
Requirements of code are mandatory only if the code is adapted as law in the country.
If not the code serve as a general guideline for design, Fabrication, testing and installation.
Example. ASME code, BS, EN, ISO, DIN.
Why is Code required?
Code gives the minimum acceptable level or rejectance criteria for the products Quality and safety level.
Code mentions the standards or specifications to be referred for additional information.
SPECIFICATION:
Specification are additional requirements stated by the company, other than the requirements of codes & Standards.
Specification is decided by the company according to their special requirement. It over rules the code and standard requirements when it is stringent than the code /standard.
Product specifications, (with chemical composition, color, packing, shipping procedure)
Example : Shell DEP, EIL Spec.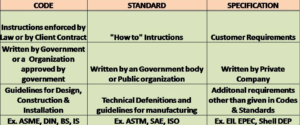 To learn more about Quality Control department and certification courses like NDT courses, Welding Inspections, Painting Inspections, ISO, Six Sigma courses, get in touch with us, or visit https://aqcinspection.com/training/
Visit our technical and career updates at our Blog site https://advancedqualitycentre.blogspot.com . https://ndtcenter.blogspot.com our website https://aqcinspection.com/news-events/  for many more blogs to learn more.