Welding
Welding – Process of joining similar metals (or thermoplastic).

By heating them to suitable temperature
May or may not require pressure
May or may not require Filler metal
Brazing -Process of joining dis-similar metals.

By Melting and pouring the filler metal and pouring on to the joint
Both the metals are pre-heated to a suitable temperature
Filler metal fills the joint gap by capillary action.
Welding Equipment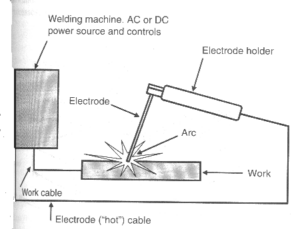 Different Welding Processes
SMAW –Shielded Metal Arc Welding
TIG / GTAW – Tungsten Inert Gas
GMAW /MIG – Gas Metal Arc Welding
FCAW – Flux Cored Arc Welding
SAW – Submerged Metal Arc Welding
ERW – Electric Resistance Welding
FSW – Friction Stir Welding
Electron Beam Welding
And Lot more …….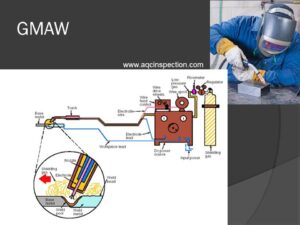 Welding Codes & Standards
ASME section IX – Welding & Brazing qualification
ASME B31.1 – Power Piping
ASME B 31.3 – Process Piping
ASME Section VIII – Pressure Vessel
AWS D 1.1 – Structural Steel Welding
AWS B 2.1 – Specification for welding procedure & Performance qualification
API RP 577 – Welding Inspection & Metallurgy
API 1104 – Welding of Pipelines & related facilities
Process of WPS Preparation
Select the thickness & dia. of the test plate/pipe to be welded.
Prepare the plate/pipe to the required dimension & bevel configuration.
Fit up in the required position.
Ask the welder to perform the weld and prepare a Run sheet.
Note down the Current, Voltage, Gas flow rate, travel speed of the welder for unit length & surface temprature. Calculate the Heat Input Values of each weld Pass
Test Weld Positions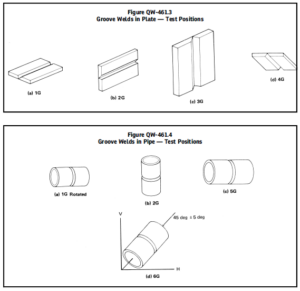 Welder Qualification
Welder should perform the test weld on the similar coupon following all the variables given the approved WPS.
Example (position, approved filler metal, approved base metal, allowed Electrical characteristics, allowed Gas flow rate, Pre heat & post weld heating requirements.
Perform Visual and NDT tests, Macro tests on the weld coupon and qualify the welder.
Welder qualification certificate should be renewed 6 months once, as per code requirement.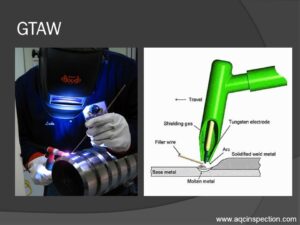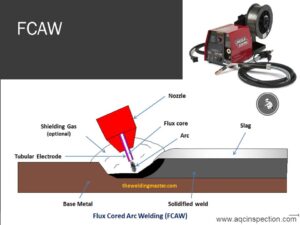 For Welder Training, Welder qualification certificate & Welder Certification, Preparation of WPS /PQR, Approval of WPS & PQR, Welding Inspection trainings and Non Destructive Testing Services and Trainings reach us at https://aqcinspection.com/
Visit our technical and career updates at our Blog site https://advancedqualitycentre.blogspot.com . https://ndtcenter.blogspot.com our website https://aqcinspection.com/news-events/  for many more blogs to learn more.