This blog will let you know how to qualify a welder.
Purpose of welder qualification:
To certify the ability of the welder to perform a specific welding process based on the qualified Welding Procedure Specification WPS, about qualification of welding procedure as per standard , I will explain in a different Blog.
Welder qualification will be done based on a qualification standard such as ASME BPVC Section IX, AWS D1.1, ISO 15614, etc, here we see the welder certification based on standard ASME Section IX
Welder Qualification based on ASME Sec IX.
Welding Process
Conclude the welding process in which welder to be qualified for
SMAW- Shielded Metal Arc Welding
GTAW – Gas Tungsten Arc Welding
FCAW – Flux Cored Arc Welding
GTAW – Gas Tungsten Arc Welding
SAW – Submerged Arc Welding (for welding Operator)
Welding Type
Manual or Semi Automatic or Automatic
Select appropriate Welding Procedure Number based on which welder is qualified ,
See weather welder is going to weld with backing or without backing
Pipe Diameter the welder is going to weld for test weld
P Number of the material as per WPS and/or the test piece (refer: Table QW/QB-422 )
F Number of the Filler metal the welder is using and/or as per WPS (Refer: Table QW-432)
't' Thickness of the weld metal deposited during the test weld
Position of the weld specimen 1G/ 2G/ 3G/ 4G/ 5G/ 6G,
Progression (Uphill or Downhill)
Essential Variables for Welder Qualification is given in para QW-350 of ASME section IX,
A Test weld coupon of Plate or pipe is prepared as shown below °

The Diameter of pipe is selected as per required qualification range , refer the table QW452.3 given below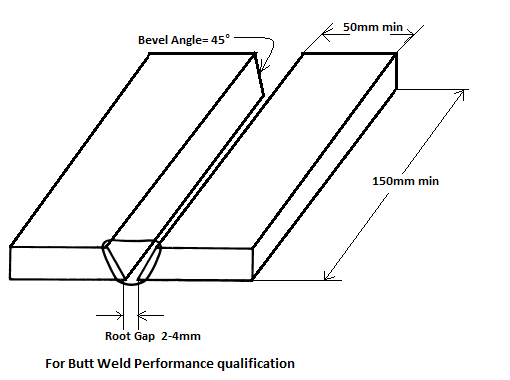 Weld Size Qualified & Fillet Size(t)  qualified is given in the table QW452.1(b) below: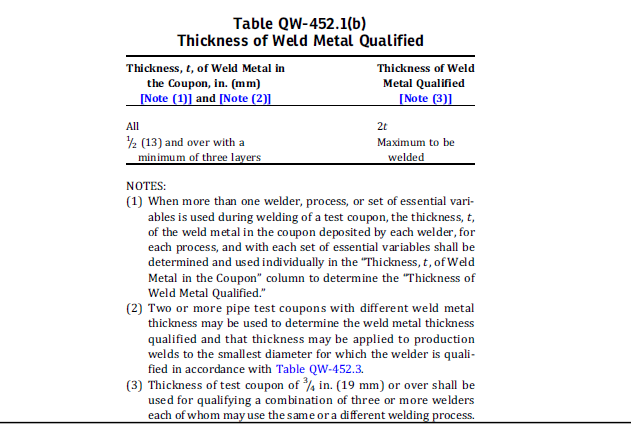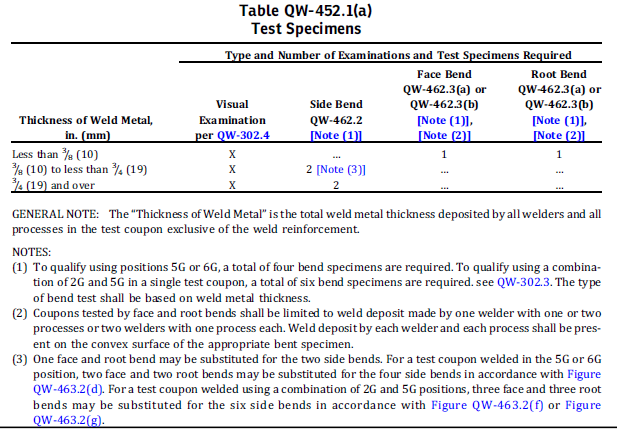 After completion of test weld, Required Tests as per Table: QW452.1(a) should be satisfied.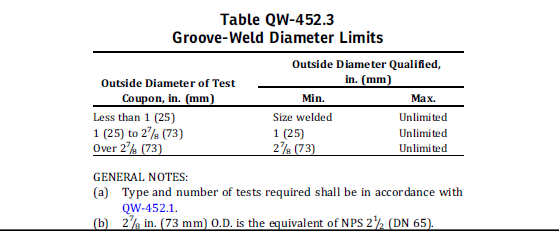 Position Qualified for Welder Performance:
The welding Position qualified for production weld depends upon the test weld position. As showln in the below TableQW461.9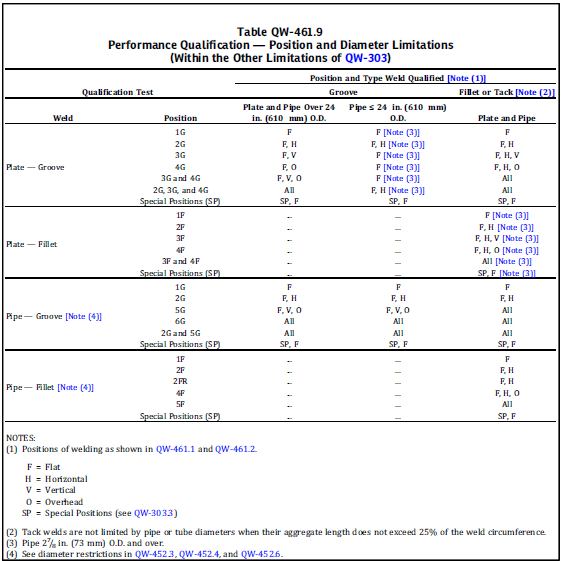 Filler Metal F-Number Qualification. Refer table QW 433 (below)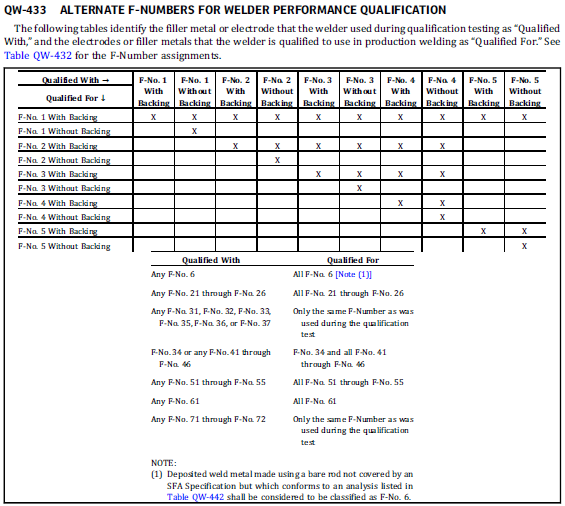 How long is the validity of Welder Certificate?
The welder certificate as per ASME section IX will remain valid unless the welder is idle or has not welded in the particular process for a period of 6 months,
Therefore a record for continuous performance should be maintained.
For more details and online classes for Welder qualification visit https://aqcinspection.com/
For more updates on Welder qualification and welding procedure specification connect with our blog site at https://advancedqualitycentre.blogspot.com/
Or reach us through 04224342244, 9489342244.