Non Destructive Testing (NDT) is required on most of metal components of Indian Railways during procurement of raw materials or on completion of machining and fabrication. NDT services  such as Ultrasonic testing (UT), Magnetic Particle Testing(MPT), Liquid Penetrant Testing(LPT), Radiography Testing (RT) &Visual Inspection Testing(VT).
The Indian Railways require the manufactures to attain ISO 3834 Certification to become vendors for Indian Railways. Welded Components manufacturing,vendors can also upgrade to ISO 15085 certification to enter into Global and bigger market of welded railway components.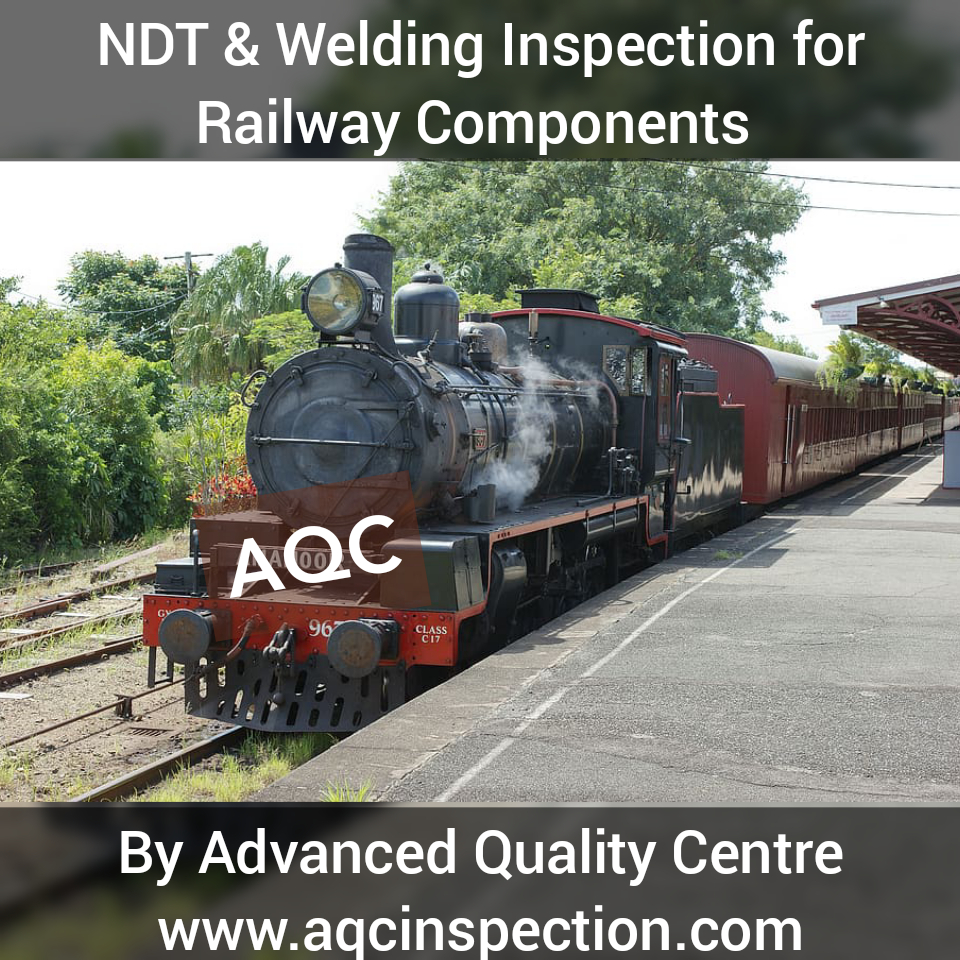 In order to achieve ISO 3834  or ISO 15085 , we Advanced Quality centre assists you in right path by preparing you the welding procedure specification (wps) as per ISO 15614 and welder Qualification as per ISO 9606. We also consult & witness the mechanical testings of the welded Test specimens before approval of WPQR and WQR.
What is Welder Qualification?
Certifying welder qualifications – Welder Performance Qualification(wqr):
A welder must hold the necessary qualifications to carry out welding. AQC welding specialists will certify the welder to an approved weld procedure by monitoring and assessing the welder during the welding process, and submitting the test piece to the lab for the relevant testing required by the applicable code. The certification of a welder is usually valid for two or three years, after which there would be a requirement for re-certification of their Welder Performance Qualification. We are the Non destructive testing services providers. 
By using AQC third party witnessing services, you have Total Quality Assurance that your welding procedures and welders are in accordance with statutory legislation and internationally-recognised welding codes; we qualify and certify welding procedures to BS EN ISO 15614  and ASME IX, and welders in accordance with BS EN 287, BS EN IS0 9606, BS 4872 and ASME IX.
Certifying welding procedures – Welder Procedure Specification and Welder Procedure Qualification Record(wps/wpqr):
Many manufacturers need independent approval for their welding procedures – either for compliance with international standards and codes or to comply with project requirements. Our welding specialists understand the codes or standards that are applicable to verify welding procedures and, as part of the third party witnessing process, we can:
Create a Welder Procedure Specification (WPS) – a 'technique' card that documents how to produce a weld.
Carry out non-destructive testing and destructive testing on the weld test piece produced under the WPS in our laboratories.
Verify the weld test piece meets the applicable codes or standards
Issue a Welder Procedure Qualification Record (WPQR) for the weld procedure, which qualifies the WPS
For NDT services and wps/wpqr/wqr services visit our https://aqcinspection.com/non-destructive-testing/
We also do complete analysis of metal properties by chemical analysis, Tensile Testing, Impact Testing, Hardness testing, Micro & Macro analysis etc. To get more updates visit our blog page http://ndtcenter.blogspot.com