›Penetrant Testing is one of the effective method for detecting surface flaws,.
›It can be used on Metals, non-metals, plastics, ceramics & Glass.
›Not suitable for Porous materials such as wood, bricks, concrete, & other non graded castings, sponge
Qualification of Examination Personel
›Able to read a Jaeger Type No. 2 Standard Chart at a distance of not less than 12 in. (300 mm),
›Should be capable of distinguishing and differentiating contrast between colors used.
›These requirements shall be checked annually.
›Should clear the Examinations with percentage stated in ASNT SNT-TC-1A
Basic Principle
›Capillary Action
– Low surface tension fluid( dye) penetrates in to clean and dry defects open to the surface.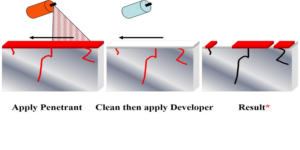 Advantages of PT
›High sensitivity to small surface discontinuities.
›Vast application -metallic and nonmetallic, magnetic and nonmagnetic, and conductive and nonconductive materials may be inspected.
›Large areas and large volumes of parts/materials can be inspected rapidly and at low cost.
›Parts with complex geometric shapes are routinely inspected.
›Indications are produced directly on the surface of the part and constitute a visual representation of the flaw.
›Aerosol spray cans make penetrant materials very portable.
Penetrant materials and associated equipment are relatively inexpensive.
Disadvantages of PT
›Only surface breaking defects can be detected.
›Only materials with a relatively nonporous surface can be inspected.
›Pre-cleaning is critical since contaminants can mask defects.
›Metal smearing from machining, grinding, and grit or vapor blasting must be removed prior to LPI.
›The inspector must have direct access to the surface being inspected.
›Surface finish and roughness can affect inspection sensitivity.
›Multiple process operations must be performed and controlled.
›Post cleaning of acceptable parts or materials is required.
Chemical handling and proper disposal is required.
General Steps:
Pre- Cleaning
Apply Penetrant
Dwell Time
Excess Penetrant Removal
Apply Developer
Developing time
Indications
Interpretation
Report
Post Cleaning
For any further information about Non Destructive testing , for material testing service, third party inspection service or training and certification for Non Destructive Testing Methods visit https://aqcinspection.com/
Visit our technical and career updates at our Blog site https://advancedqualitycentre.blogspot.com . https://ndtcenter.blogspot.com our website https://aqcinspection.com/news-events/  for many more blogs to learn more.