Welding is a process of joining metals by process of heating.  Most of the weld made are manual. It is possible that the weld may have various defect formation due to parameters of welding and poor workmanship.
Why is Welding Inspection Methods  important?
Therefore the weld made should be tested for defects and quality of weld metal. To ensure the joint is strong and suitable for the purpose the product is designed for.
The Welding inspection methods can be broadly divided into two types
Destructive Testing and
Non Destructive Testing
Destructive Testing otherwise called as Mechanical Testing. It is a qualitative analysis process, which identifies the qualities like Tensile Strength, % of elongation, Hardness, Toughness, Chemical Content of metal and Micro Structure formed during welding process.
But destructive testing cannot be done on all the weld joints made. Instead it is carried out on a sample per lot. Mostly the above mentioned destructive testings are carried out to qualify a welding procedure or to qualify a welder .
Non Destructive Testing, or simply NDT is a quantitative analysis process. It identifies the presence of defects and sometimes used to measure the dimensions .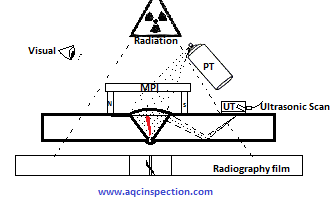 Basic NDT Methods on Weld Joints
There are various NDT Methods that can be applied on weld joints, few of them are mentioned below:
Ultrasonic Testing ( UT )
Phased Array Ultrasonic Testing ( PAUT )
Time of Flight Diffraction ( TOFD )
Radiography Testing ( RT )
Magnetic Particle Testing ( MT )
Liquid Penetrant Testing ( PT )
Laser Shearography
Microwave Testing (used on high density polyethylene weld joints)
Positive Material Identification PMI (used for Chemical analysis of welds & metals)
Acoustic Emission Testing ( AE )
Thermography
And much more…………..
The most widely used method for weld inspection are UT, PT, RT ,MT and VT
How to run a fabrication company making quality welds ?
It is essential for a successful fabrication company to have a welding procedure for each kind of welding.  Having a WPS (Welding Procedure Specification) is also requirement of Standards and Codes.
What is welder certificate?
The Welder performing the job should be skilled. Welder should be tested to perform the job and certified with a welder qualification certificate as per the codes or standards requirement.
What is the use of welder certification?
The Quality team should be with education of Weld Visual defects and inspection methods.
A suitable non destructive Testing method should be implemented to check the weld quality, randomly or 100% percentage , as per the client requirement.
Trainings for welders, trainings for Welding inspections, Courses and Certification for performing  NDT, consultancies for welding procedure Specification WPS , Welder qualification in Coimbatore etc., are readily available globally everywhere, for more assistance contact experts at https://aqcinspection.com/ .
Visit our technical and career updates at our Blog site https://advancedqualitycentre.blogspot.com . https://ndtcenter.blogspot.com our website https://aqcinspection.com/news-events/  for many more blogs