Welding Procedure Specification- WPS
This document details, how to qualify a welding procedure specification-wps for weld metal overlay / cladding / surfacing , for both corrosion resistance overlay and wear resistance overlay welding.
The reference standard selected for the purpose of qualification of cladding procedure and welder qualification is ASME Boiler and Pressure Vessel Code (BPVC) section IX.
Step by step procedure for WPS preparation:
Select the sample size (thickness of base metal)
Prepare the test sample
Weld the overlay / cladding over the test sample with appropriate filler metal
Carry out the testings on the weld overlay as mentioned in the standard, Non Destructive Testing ( NDT ) & Mechanical Testing
Prepare the Procedure qualification record ( PQR )
Prepare the Welding Procedure Specification ( WPS ) with ranges qualified for production
Welder Qualification
For the welder performed the PQR qualification test prepare the Welder certificate
For additional welders , ask them to perform welding as per qualified WPS
Perform the NDT 7 Mechanical test on the welded coupons as per the requirements of ASME Section IX
After successful completion of tests, prepeare the Welder performance Record.
Selection of  PQR Test coupon thickness
Tube sheet: tubesheet sample should have  a thickness = minimum thickness of production or 50mm (2" ) whichever is lesses.
Plate: Plate sample shall have thickness = minimum thickness of production
Preparation of Test Sample:
A test sample of same grade, or same P.Number or similar chemical composition is selected for test coupon. The dimensions of the test specimen is as below and in Figure 1.
150mm x 150mm x minimum thickness of production, overlay for a width of 38mm minimum.
Weld the Overlay as shown below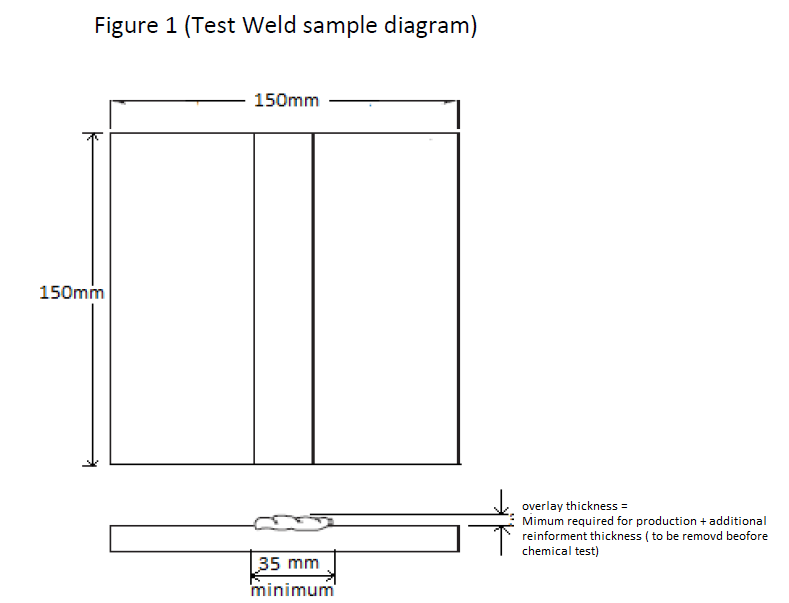 Tests as per standard (ASME BPVC Section IX)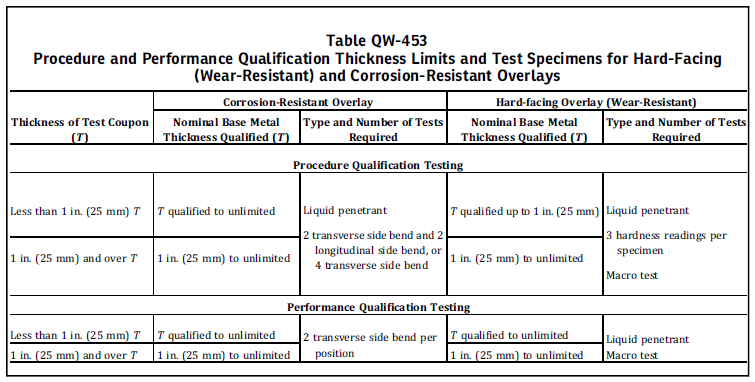 Example: For Corrosion resistant overlay
Liquid Penetrant Test as per ASME BPVC Section V article 6,
Acceptance Criteria for Liquid Penetrant Testing
relevant indications: indications with major dimensions greater than 1/16 in. (1.5 mm)
Chemical Analysis at a depth of overlay thickness for which WPS to be qualified, refer Figure 2 below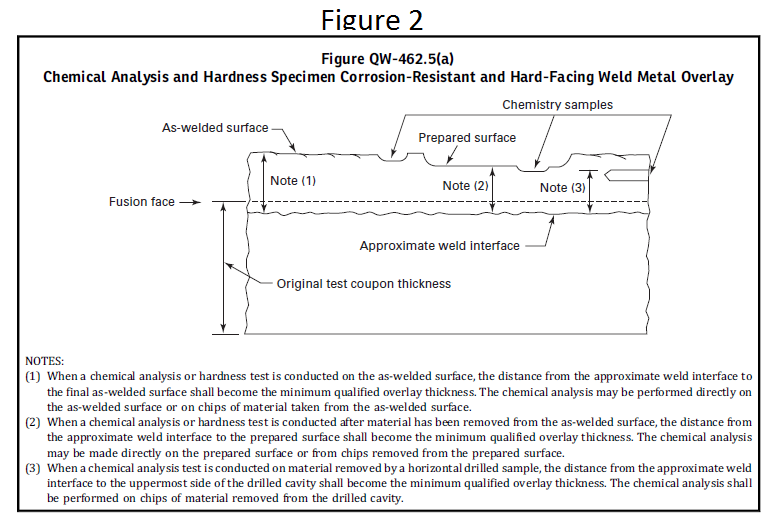 4 bend tests (2 transverse and 2 longitudinal ) or (4 Transverse)
ACCEPTANCE CRITERIA for BEND TESTS
The weld and heat‐affected zone of a transverse weld bend specimen shall be completely within the bent portion of the specimen after testing.
The guided‐bend specimens shall have no open discontinuity in the weld or heat‐affected zone exceeding 1/8 inch (3 mm), measured in any direction on the convex surface of the specimen after bending.
Open discontinuities occurring on the corners of the specimen during testing shall not be considered unless there is definite evidence that they result from lack of fusion, slag inclusions, or other internal discontinuities.
For corrosion‐resistant weld overlay cladding, no open discontinuity exceeding 1/16 in. (1.5 mm), measured in any direction, shall be permitted in the cladding, and no open discontinuity exceeding 1/8 in. (3 mm) shall be permitted along the approximate weld interface.
After Success of al the tests prepare a PQR , WPS and Welder Certificate for Welded Welder or Operator , a sample of the above mentioned documents is given in ASME BPVC Section IX,
FORM QW-482 SUGGESTED FORMAT FOR WELDING PROCEDURE SPECIFICATIONS (WPS)
FORM QW-483 SUGGESTED FORMAT FOR PROCEDURE QUALIFICATION RECORDS (PQR)
FORM QW-484A SUGGESTED FORMAT A FOR WELDER PERFORMANCE QUALIFICATIONS (WPQ)
 For more information , Document approval by third party company, training or guidance towards welding and procedure qualification or Non destructive testing services reach us at https://aqcinspection.com/
Visit our technical and career updates at our Blog site https://advancedqualitycentre.blogspot.com . or
https://ndtcenter.blogspot.com